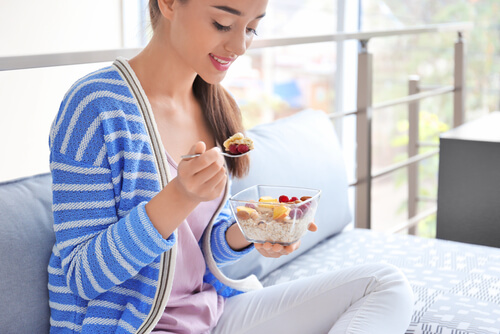 Simple carbs include things like white bread, table sugar, and some artificially sweetened drinks. These are refined products meaning most of their fiber content, vitamins, and minerals have been removed. That being the case, simple carbs can be useful as a small energy booster, but they often hold little to no nutritious value.
This is what led to them sometimes being called "empty calories." Pastries, carbonated drinks, hard candies, cakes, and bars of chocolate are also simple carbs and some of the most common types at that. Conversely, complex carbs are whole grains. These include corn, sweet potatoes, starchy vegetables, oatmeal, and brown rice.
Complex carbs have higher vitamin, mineral, and fiber content. It still provides the energy you need, but it lets you use it up at a more uniform pace rather than giving you a sugar rush for a few minutes and then leaving you fatigued afterward. Complex sugars can also be good for those who are trying to lower their blood sugar levels.
1. Oatmeal

Oatmeal is a classic grain. It's long been one of the staples of a healthy breakfast. Even back in the Wild West traveling cowboys and outlaws would rely on the nutritional value of oatmeal to keep them energized during all their gunslinging, prospecting, and bounty hunting. Oatmeal has extremely high fiber content which makes it ideal if you're trying to bypass constipation and make a bowel movement.
It also lowers the cholesterol in your body which could make it a great home remedy for those suffering from high cholesterol levels. As if all that wasn't enough, oatmeal also provides a large number of calories meaning it'll keep you energized throughout the entire day as long as you eat a healthy serving at breakfast.
You can even add in some other ingredients to make your oatmeal more healthy. The most common is using whole milk for oatmeal to increase the calcium content of the meal.