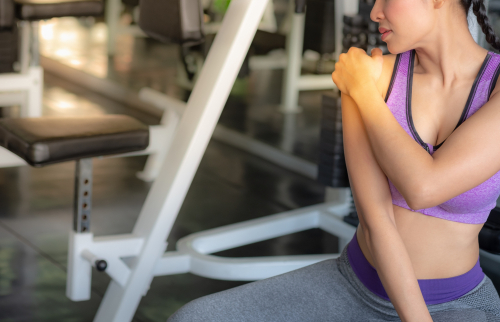 Thoracic outlet syndrome is a rare disorder that occurs in less than 200,000 people each year in the United States. When it occurs, a person will experience a number of symptoms. A person may not have every symptom for thoracic outlet syndrome but may have anywhere from one to a few.
Thoracic outlet syndrome is a condition that causes certain nerves and blood vessels to press together. This will cause the fingers to become numb and there will be a pain in the shoulders and neck area. The pain doesn't go away on its own. Only a medical professional can diagnose and treat thoracic outlet syndrome, which includes a chest X-ray and lab work.
Once it's been diagnosed, the disorder can start to be treated with physical therapy and/or medication. In serious cases, surgery is needed. There are eight major symptoms of thoracic outlet syndrome to look out for, including pain, numbness, and cold fingers.
1. Pain in shoulders and neck is a major symptom of thoracic outlet syndrome.

Most people who have the disorder will feel pain in these areas. This happens when carrying heavy items over the shoulder, which will cause the pain. Bad posture can cause the neck and shoulders to have pain as well. Sitting all day in one spot can cause a person to hunch over. Over time, the pain will develop in the shoulders and neck.
In order to get relief from the pain in these areas, pain medication administered by the doctor or over-the-counter may help. Pain medication should only be taken when the pain is present and usually every four hours. Physical therapy is usually prescribed first before or in conjunction with medication. At physical therapy, exercises are done slowly and can be done at home as well. This will allow the muscles to become looser and less pain is felt.