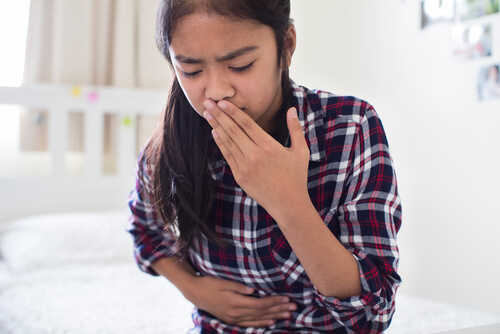 2. Nausea and Vomiting
When it comes to symptoms, one of the most common of those who are suffering from H pylori infections is nausea and vomiting. Of course, there are many other ailments that can cause a person to feel nauseous or to vomit.
Nausea refers to a sensation of discomfort or unease that typically includes the urge to vomit. Nausea is not necessarily painful, but when it is prolonged it can be debilitating. Vomiting refers to the forceful and involuntary expulsion of the stomach contents through the mouth and possibly the nose. Emesis, puking, and barfing are all other ways to describe this symptom. Both vomiting and nausea are nonspecific symptoms.
This means that there are a number of conditions that can cause a person to become nauseous or to vomit. Some of these include peptic ulcer disease, pregnancy, viral infections, food poisoning, and other bacterial infections not just H pylori.