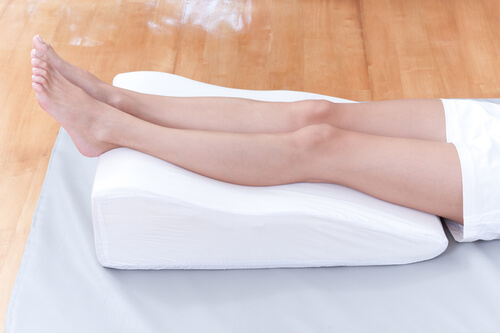 Tendonitis is an inflammation of the tendon, the connective tissue that connects the muscle to the bone. Pain, inflammation, swelling, reddening and a hot feeling are symptoms of tendonitis, and there are a number of ways to experience relief.
Resting, elevating the area and applying cold packs to the affected area will help heal your tendonitis. Massage and acupuncture are advanced ways of treating tendonitis that has been shown to work effectively. Eating plenty of fruits and vegetables, oily fish and amino acids such as bromelain is a great way to reduce inflammation. Herbs and essential oils can also be useful for relieving discomfort.
Physical therapy can help you stretch in ways that can help reduce pain and avoid further injury and discomfort with your tendonitis. It is a good idea to try these methods before relying on prescription drugs for pain which can lead to dependency and may carry side effects.

1. Rest
When your tendons are inflamed, the first thing you should do is listen to the signals your body is giving you. Pain is the body's way of saying it is time to slow down and to avoid stress and strain. While you rest the area affected by tendonitis, consider elevating it to relieve the pain. Although you are resting the area, that doesn't mean certain exercises are out of the question.
Many therapists do not recommend a complete sedentary way of treating tendonitis, but to do some mild exercises to strengthen the muscles around the tendon to help support the tendons. Once you have rested your knee or elbow thoroughly, find out the proper way to move to prevent the aggravation of tendonitis. In addition, you should know when to take breaks and avoid the strain that can lead to injury.