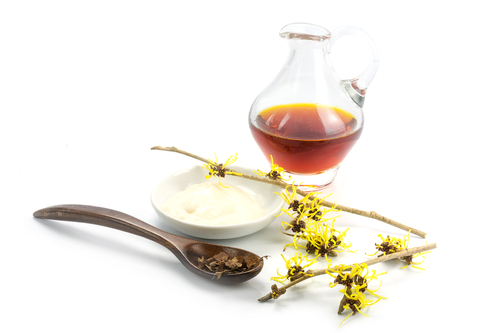 2. Witch Hazel
Look around your bathroom, and you're bound to find a bottle of witch hazel liquid distillate hidden in the back of your toiletry cupboard. The chances are you purchased this product because someone told you it's an excellent skin conditioning treatment that leaves your skin feeling soft and supple, with a warm glow.
Witch hazel comes from the distillation of North American Witch Hazel shrub. Manufacturers steam the twigs of the plant and collect the clear liquid. Witch hazel has natural anti-bacterial properties, and it's loaded with plant polyphenols, antioxidants, and flavonoids.
Witch hazel is an astringent compound, meaning it assists the pores and skin during contraction. As a result, witch hazel makes an excellent natural deodorant which lowers the skin's pH level, making it a challenging environment for bacteria to replicate. We recommend you add witch hazel to some alkaline water and use it as a natural underarm spray that leaves you feeling fresh and protects against body odor.