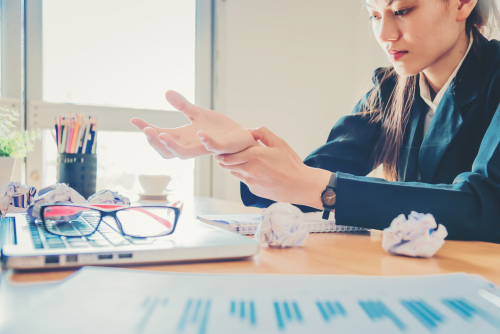 Trigger finger is one of those painful conditions that can be very unpleasant for the sufferer… but also occasionally quite amusing!
While we wouldn't like to admit it, not being able to put down a mug or a toothbrush, or finding that you're still holding your sock from this morning, can occasionally be smirk inducing.
But while it might be momentarily amusing, that, unfortunately, doesn't change the fact that it is also very inconvenient and uncomfortable. And the worst bit? Sometimes you can't release the finger. This then means you're stuck with it in the locked position, and potentially it will be quite painful to release it.
Eventually, you might risk the trigger finger being stuck for a very extended period of time.
In this post, we're going to look at 8 ways to release the finger without causing pain, and without exacerbating the condition in the long term.
1. Gently Push
The first thing to try should always be the most obvious and straightforward option. In this case, that simply means applying a little gentle and even pressure to the finger in an attempt to straighten it out. You should find that the finger gradually moves in the direction you push it until it becomes completely straight.
If you meet a lot of resistance, then simply wait and then gently try again. You can, of course, push through the resistance, but this is what can sometimes cause that suddenly moved and accompanying the pain.
Another tip is to try moving and rotating the finger and to try lightly 'shaking' it around in order to get it to unstick. This can help to loosen it up so that when you return to the pushing movement, you'll experience less resistance.