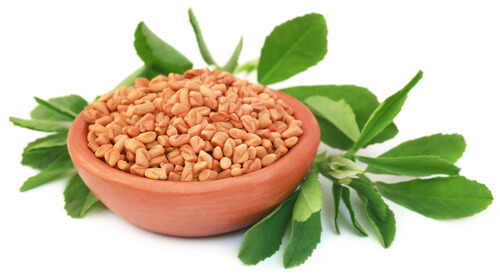 Fenugreek is an herb that has small white flowers and light green leaves. The plant is a part of the pea family and is also called Greek hay. The plant can grow up to three feet tall and the pods of seeds typically have about ten to twenty seeds inside. The seeds taste somewhat bitter and are often used in making medicine. The seeds are typically dried and then ground up, this is the part of fenugreek that is most often used. Many people use fenugreek in recipes. Fenugreek can be made into a paste that can be applied to the skin. It can also be taken by mouth. Fenugreek extract offers many antioxidant, antimicrobial, antitumorigenic, and antidiabetic properties. Fenugreek is cultivated in the Middle East, India, Egypt, and North Africa. The herb has a long history of being used in many traditional medicines. Here are 14 benefits of Fenugreek to consider.
1. Improves Digestive Health
Anyone who has issues with their digestive system may see some relief by adding fenugreek to their diet. Fenugreek is rich in antioxidants and fiber, both of which can help flush harmful toxins from the body. Getting rid of these toxins can help with any type of digestive issue a person might be experiencing. The herb has been helpful as a treatment for indigestion and gastritis. The fiber found in fenugreek can help prevent constipation. In addition, the herb can help people who have digestive issues that are caused by stomach ulcers. The reason that it helps with ulcers is that it has lubricating properties that can help soothe the intestines and the stomach. Drinking fenugreek tea can help relieve stomach pain and indigestion. If you are suffering from constipation, drinking fenugreek tea in the morning can help get things moving. To make tea, you will mix about a tsp of fenugreek powder in some warm water. Strain, and then drink.