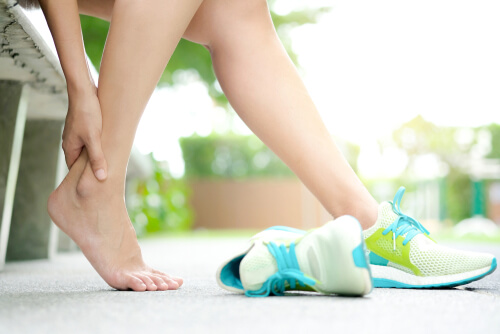 2. Plantar Fasciitis
This condition is the bane of every runner or athlete. The plantar fascia is a band of connective tissue that runs from your toes to your heel. When the fascia experiences repetitive stress and trauma from a runner's heel-strike, the ligament begins to inflame, causing symptoms of heel pain that feel like a stabbing sensation in your foot.
Runners and athletes require immediate treatment to stop the progression of the condition. If left untreated, plantar fasciitis continues to advance, resulting in an incredibly painful experience that can result in athletes and runners hanging up their cleats or running shoes for good.
Doctors treat plantar fasciitis with pain killers and anti0inflammatories to manage the symptoms. Should the fasciitis show no signs of recovery, your podiatrist may recommend mildly invasive surgeries, such as Tenex, to remove the scar tissue from the fascia.
Other home remedies to reduce the inflammation include ice, elevation, and rest. Wearing compression socks throughout the day enhances circulation, improving your recovery.