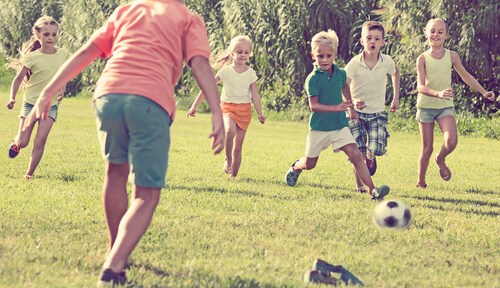 Osgood Schlatter disease is a common cause of knee pain among adolescents. It may also occur in some adults. It can cause a bony bump to appear on the shinbone, located just below the knee. This bump can become quite painful.

Osgood Schlatter disease will most typically develop in girls aged ten to thirteen and boys aged twelve to fourteen. The exact cause of Osgood Schlatter disease is not known.

However, there are some theories that suggest that the condition is caused by repeated contraction of the knee extensor mechanism. These repeated contractions cause micro avulsions of the tibial tubercle. These avulsions can cause tiny tears that can result in swelling and pain. This theory is supported by the fact that most cases occur in jumpers, runners, and other athletes that perform repetitive motions.

Here are eight of the common causes and risk factors for the development of Osgood Schlatter disease.
1. Age
When it comes to Osgood Schlatter disease, one of the most common risk factors is the age at which it occurs. In girls, Osgood Schlatter disease is most likely to occur from the ages ten to thirteen.

In boys, Osgood Schlatter disease will typically occur from ages twelve to fifteen. The reason for this is quite simply because girls tend to enter puberty at an earlier age than boys. The bones of adolescents have an area where the bone grows. This is called the growth plate. The growth plates are the areas of cartilage located around the ends of the bones. During the growth period, these growth plates can become swollen or damaged.

This is especially true in the growth plates surrounding the knees. If your child is going through a growth spurt and has developed pain in their knees, there is a good chance that it is caused by Osgood Schlatter disease.