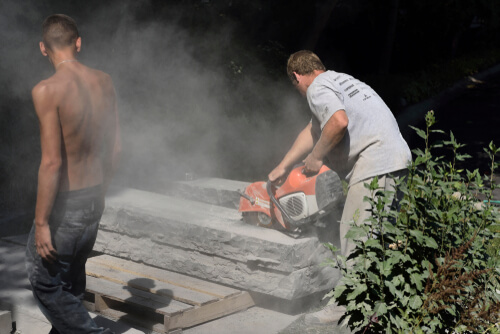 Pulmonary fibrosis is the de facto medical term used to describe a lung disease that manifests whenever lung tissue becomes scarred and damaged. The tissue will stiffen and thicken which makes it far harder for your lungs to function at an efficient level. As the condition progresses, it will become harder and harder to breathe — with late-stage patients saying that they feel short of breath the whole day through even when not attempting any strenuous activities.
While the damage to the lungs isn't repairable, regular treatment — through the form of therapies and medications — could alleviate some of the symptoms and make the life of the patient far more bearable. Some cases — referred to as idiopathic pulmonary fibrosis — are of unknown origin. That being said, there are quite a few things that could cause pulmonary fibrosis. Let's take a look at eight of the most common ones.
1. Silica dust
The longest word of most English dictionaries is pneumonoultramicroscopicsilicovolcanoconiosis. It refers to lung diseases caused by the inhalation of silica dust.
It just so happens that a shorter-term, silicosis, is more frequently used by medical professionals. Silica is a mineral. It is a component of quartz, rock, and sand. Workers that face constant exposure to silica dust are at higher risk of silicosis. Jobs like foundry work, glass manufacturing, and mining could all lead to silicosis after spending years in the industry.
Breathing in these fine particles of the silica could scar your lungs and thus cause pulmonary fibrosis. Following the discovery of the link between silica dust and pulmonary fibrosis, many regulatory boards added rules stating that companies in high-risk industries must supply masks to their workers or be faced with hefty fines. This reduced the number of cases caused by silica dust but didn't eradicate them entirely.