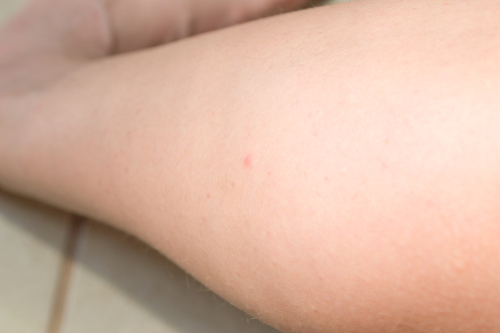 During the skin condition known as folliculitis, hair follicles anywhere on the body become inflamed and sore. The condition is usually caused by a bacterial or fungal infection and is characterized by certain features. In the early stages, the infection may appear as a collection of small red bumps or pimples with whiteheads. These clusters around hair follicles can spread and progress into crusty, pus-oozing sores.
In most cases, the condition is more embarrassing than anything else, although I can itchy and very sore. The condition is far from life-threatening, however, serious infections may result in permanent hair loss and/ or some moderate scarring.
Usually, someone can expect the infection to clear up in just a couple of days. This is achievable with self-care routines and improvements in hygiene, although were serious or recurring cases of folliculitis are concerned, seeing a health professional for an opinion and potentially a prescription is a good idea.
1. Clusters of small red bumps
The first sign that someone suffering from folliculitis will notice is the appearance of a cluster of small red bumps. These red bumps may look like shaving rash or resemble something like a nettle sting, but the progression of the symptoms will eventually leave one in little doubt about this being folliculitis.
The appearance of any kind of abnormal symptom on the skin can be troubling, and many people choose to hide the symptom away, through embarrassment. The truth is that there are many reasons why someone could develop a small cluster of red bumps and that the best plan of action is to first ascertain what is causing them and then secondly to treat them in an appropriate manner.
Ignoring the arrival of this common sign of folliculitis will only result in the condition worsening and an extension in the time it takes for a person to feel fully recovered. If you see some small red bumps, do something about it.