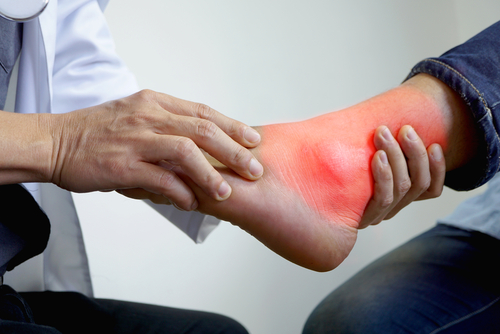 2.  Swelling of the feet and ankle area
As if the pain and tingling weren't enough for a person to deal with, they can soon find themselves hit with an added knockdown. Swollen feet and ankles can occur with this condition and it is fairly common too, with as many as half of all people affected with the condition suffering from some form of swelling in the feet and ankles. 
Walking and balancing are challenging enough for these people to manage with swollen feet and swollen ankles, the extra challenge is trying to squeeze oversized feet into shoes. 
If a person is of a healthy weight, this problem can be mildly difficult to manage with over the counter anti-inflammatory medication and home remedies work well to ease the symptoms, but for someone who is overweight, any additional swelling to the feet, ankles and surrounding areas can be extremely difficult to handle, given that their feet and ankles may already be experiencing swelling.