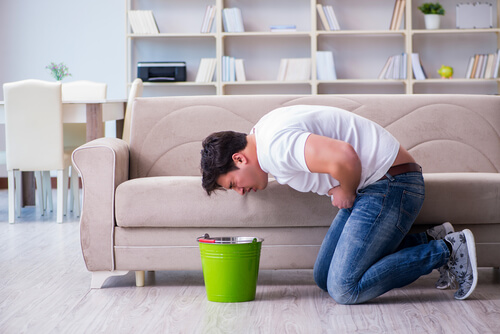 2. Vomiting
Nausea is challenging to deal with, especially if it comes in waves throughout the day. However, if left untreated, nausea may progress to vomiting. Vomiting occurs as the body tries to remove the excess fluids in the gastrointestinal system and stomach lining.
The feeling of needing to vomit can start with nausea, and then progress until you feel like you need to purge. If you try to prevent yourself from vomiting, you might find that you're unable to suppress the reflex, especially if you ate anything in the last 4 to 6-hours.
Some affected individuals will experience initial vomiting symptoms that are sporadic and mild. However, as the condition progresses, the patient may find themselves wanting to vomit frequently. Vomiting can lead to severe dehydration that presents a life-threatening situation if you don't seek immediate treatment.
With severe vomiting symptoms, the patient will require hospitalization and treatment with intravenous fluids like Ringers Lactate to restore the electrolyte balance.