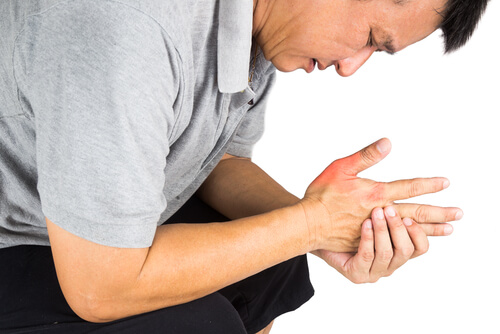 Ganglion cysts are lumps that typically develop on the hands or wrists of seniors. These non-cancerous cysts do not present a life-threatening situation, and doctors are still unsure about what causes the ganglion cyst to appear.
Ganglion cysts vary in size, from as small as a pea, to an inch or larger in diameter. The cysts contain a clear or milky fluid that has a jelly-like appearance. The fluid sometimes firms, and maybe challenging for physicians to drain.
In most cases, ganglion cysts go away by themselves and are more of an inconvenience than a health risk. However, should the cysts grow near a nerve, it may place pressure on the surrounding tissues causing symptoms of pain. In these cases, a doctor may choose to lance the cyst or remove it through a surgical procedure.
If you notice a cyst developing on your hands, wrists, toes or ankles – it could be the start of ganglion cysts. Here are eight symptoms of the condition.
1. Inflammation and Swelling
In the initial stages of the cyst, the patient may not realize the extent of the developing problem. The cyst starts by discoloring the skin around the affected area. The patient often experiences no pain, and they may write the swelling off to their arthritis or a bruise under the skin.
However, as time passes, the patient may notice a significant change in the color of the skin in the affected area. The cyst does not show any signs of appearing, but the center of the affected area may start to turn a deeper red than toward the edges.
The patient may also notice the occurrence of pain and discomfort symptoms at this stage, and eventually, the emergence of the cyst. The symptoms of inflammation and swelling may even start to affect the mobility of the affected joint. Some patients may notice an increase in discomfort when flexing the affected joint as well.