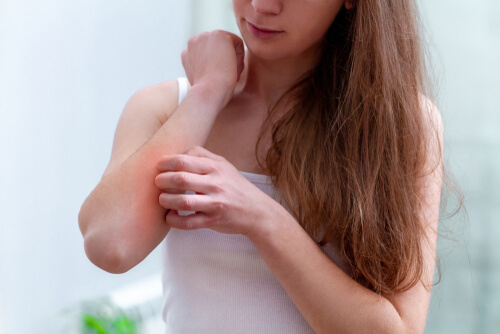 Impetigo is a bacterial infection of the skin. It is common in children but can affect people of all ages. It appears are rest spots or blisters on areas of the skin. It may itch, hurt, or cause no discomfort at all. The blisters and infection usually occur on the face but can occur on the hands and legs too. In the early stages of the infection, there may only be a few noticeable spots.
If it is left untreated, it can become worse, and the infection can spread, causing more spots in other areas. The spots may become raised and can leak or ooze a liquid. The liquid can contain the bacteria and may cause infections in other parts of the body and in other people. Impetigo usually requires antibiotic creams and sometimes even oral antibiotics to clear up the infection. The infection may go away and come back worse as may the symptoms.
1. Blisters
Blisters are a common symptom of impetigo and one of the first that people notice. They may appear alone with skin sores or instead of the sores. They can range in size from small to large and can be filled with pus and fluid. The sores can spread out over a large area or pop up close together in small areas. The blisters are usually red or brown and are raised. Some may be clear, and others may appear to be bloody.
These sores can ooze a liquid or puss and be painful. Children often have a hard time not picking the blisters and can cause them to burst and lead to other infections. Picking or scratching to blisters can cause the bacteria responsible for impetigo to spread to other areas of the body or to other people. The blisters can be treated with antibiotics ointments and should be left to clear up on their own. Once the infection is gone, the blisters will go away.