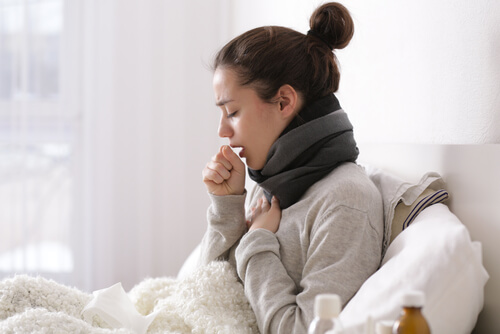 When a virus enters the body through the mouth or the nose, transmitted to that person by touch, or through sneezing and coughing, an upper respiratory infection (URI) can occur.
The saying is true, coughs and sneezes do spread diseases, this being the most common of all.
Places, where people gather in close proximity, to learn, work, worship or socialize, can be areas that are of much greater risk for the spread of URIs.
Usually lasting from anywhere between 3 and 14 days, a URI can occasionally worsen and turn into a more serious sinus condition, or an even worse illness like pneumonia. For these reasons, it's pretty important to be aware of some of the earliest indicators that a URI is on the way.
Here are some of the earliest observable signs that a person is coming down with an upper respiratory infection, otherwise known as the common cold.
1. Coughing
A cough that won't seem to budge can be an early indicator. Coming and going in the daytime, but typically much worse at night, coughs can range in severity from one person to another.
Some people may go their whole lives only ever experiencing a gentle tickle of a cough when they get poorly, whereas some people will sound and feel as though they're about to cough up a lung every single time they're poorly. Whatever the volume and the veracity of the episodes of coughing, people generally don't start coughing for no reason at all, and so it's fairly reasonable to assume that following a cough, the confirmation of an upper respiratory infection is an inevitability, a foregone conclusion.
Coughs are like an advent to a URI. Counting the days that the cough has been present can either drive someone to the point of insanity or provide them with a really good reference point to talk with their doctor about.