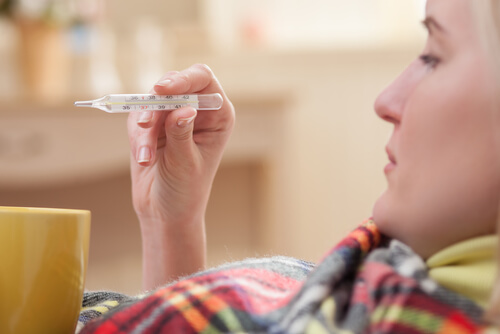 It is always difficult to diagnose roseola, due to the fact that the early signs and symptoms bear a striking similarity to those of a handful of other childhood illnesses. Fever with no evidence of the common cold, ear or throat infection could lead your medical professional to wait and see if the very characteristic rash associated roseola appears.
The rash is a fairly good telltale indicator that roseola is present, however, the early signs and symptoms, as stated above, can cause misdiagnosis, and so home care in the early stages in the best, using over the counter medications to remedy the fever, whilst waiting to see if the rash develops.
The illness usually passes one week after the onset of the fever and so this is not something to be terribly concerned over. As it is a viral illness, antibiotics are not suitable in treating roseola and in many cases, care provided at home will achieve the best results and with the sufferer feeling most comfortable and at ease.
1. Fever
Fever is one of the most commonly associated symptoms with influenza and so it is not at all surprising that this one catches people out when determining between the flu and roseola. The fever that people get with these illnesses is virtually identical, with hot flushes and shivering episodes punctuating a fairly miserable process from onset to conclusion.
You can treat a fever with over the counter medicines, and this is recommended to bring someone's temperature down, however, the fever usually has to run its course before a person starts to feel fully recovered. If the illness turns out to be roseola, the fever will usually last a shorter time than the fever that comes with the flu, which can sometimes last up to a few days at a time. Even though the time frame may be shorter for roseola sufferers in terms of a fever, the ill-feeling and unpleasantness are no better or worse than that which comes with the flu.