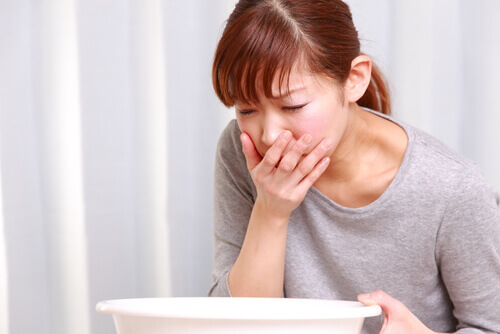 2. NAUSEA AND VOMITING
It is an unpleasant diffuse sensation of unease and discomfort.  This is often perceived as an urge to vomit. While it is not a painful experience, it can be debilitating symptoms if prolonged.  This has been described as placing discomfort on the chest, upper abdomen or back of the throat. Some people with Gilbert's Syndrome may experience headaches and dizziness which will eventually lead to nausea.  And depending on the severity of the symptoms, the person suffering from this uneasy condition may also experience vomiting at the end. Vomiting is a condition of a forceful contraction of the stomach to come up through the mouth. Nausea and vomiting have a lot of underlying causes and often occur simultaneously.  In fact, such conditions can be associated with a lot of illnesses or diseases.
It is important to rule out the cause of nausea and vomiting so as to properly address the condition. As an assessment, the patient may require to undergo several examinations like examination of the mouth and pharynx to see if thrush or ulceration is present. Abdominal examination like auscultation for bowel sounds, palpation of abdominal masses, and observation of degree of distention. Blood examination is also very important since this is the starting point of assessment. Review of films as to radiography of appropriate suspected body parts.

There are a large number of medications that can be used in the short-term management of nausea and vomiting. But of course, non-pharmacological intervention strategies may also be applied in conjunction with medications like progressive muscle relaxation, music therapy, exercise, yoga, and massage. Dietary modification strategies can be also helpful in reducing the risk of nausea and vomiting while maintaining nutrition. Examples of dietary modification strategies include offering only dry foods throughout the day; rinsing the patient's mouth after eating; giving bland, soft, easily-digestible food for min meals; and positioning the patient upright while eating and one-hour post-meal. Similarly, reducing environmental stimuli may help lessen the risk of external triggers. Strategies include avoiding cooking aromas, avoiding overly warm rooms, and ensuring good ventilation.