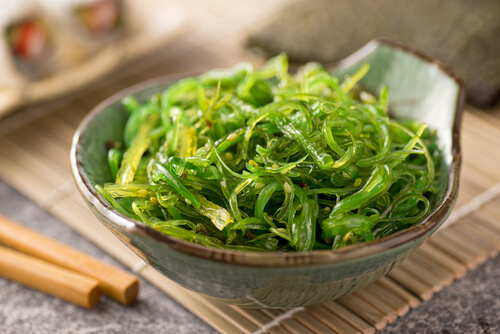 Seaweed is a common part of daily meals in many parts of Asia, especially in Japanese cuisine. Lately, many other countries have been picking up on the trend due to the various help benefits this amazing plant from the sea has to offer. Seaweed is naturally salty, packs a satisfying crunch, and is also low in calories.
On top of all that, this high protein plant is full of essential vitamins and nutrients that your body needs to stay healthy. If you are in need of more fiber in your diet, adding seaweed is just one of the great ways to do so while also boosting your nutritional profile. Worldwide, there are over 100 different edible types of seaweed you can purchase. There are a few more commonly sold in grocery stores than others. Nori is mostly used for sushi and snacks, Kelp is most often found in noodle and soup form.
1. Packed with Nutrition
Seaweed offers a high concentration of both iodine and iron, both of which are critical for a healthy body. There are many types of seaweed, and each offers its own unique blend of essential vitamins and minerals, but all variations are rich in iron and iodine. Seaweed is also low in calories while also being a good source of carbohydrates, protein, healthy fiber, and polyunsaturated fatty acids.
Seaweed is also a good source of a large variety of vitamins such as B, E, C, and A vitamins. Of course, iron and iodine are just two of the main essential minerals found in the water-based plant. Seaweed of all varieties offers those who consume them protection from many forms of cellular oxidative stress thanks in part to the antioxidants they contain. The plant also helps to reduce inflammation all over the body due to those same beneficial immune system boosting antioxidants.