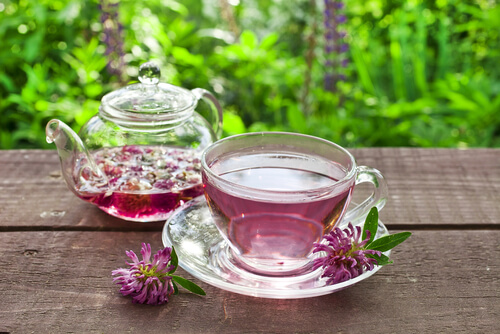 Red clover is a small, perennial plant native to lands across Asia and Europe. The red clover does not bear the same characteristic as clovers you find in fields. The red clover blooms in the early spring months of the Northern hemisphere, producing pink-purple flowers that sit atop broad leaves.
The herb has a special place in traditional medicine where healers recognize its immune-boosting and anti-inflammatory properties. Red clover contains potent polyphenol antioxidants that reduce inflammation and help eradicate free radicals from the bloodstream.
Supplement manufacturers produce red clover oil extracts from the flowers. Leaves and stems of the plant for use in therapeutic applications. Red clover is useful in treating a wide variety of inflammatory diseases and helps to strengthen the immune system, protecting it from infection.
You can eat the fresh flowers of the plant, or brew it into a sweet and fragrant tea to capture the health benefits of this herbaceous remedy. Here are eight health benefits of consuming red clover.
1. Relieve Hypertension
People who are living with high blood pressure are at risk of developing numerous types of cardiovascular disease. Many people suffering from the condition don't even realize they have anything wrong with them, because hypertension rarely displays any adverse health symptoms of the than a slight elevation in heart rate and cranial pressure.
It's because of the subtle nature of the symptoms that the medical community labels high blood pressure as, "the silent killer." People with hypertension may go for years before the condition starts to produce any adverse health effects of a noticeable nature.
However, when things do start to go wrong, the patient may develop severe cardiovascular issues quickly, and they run the risk of developing complications with the kidneys as well.
The anti-inflammatory properties of red clover help to reduce the effects of hypertension, helping affected individuals manage their condition. Drinking red clover tea or supplementing with tablets can tension in the blood vessels and arteries.