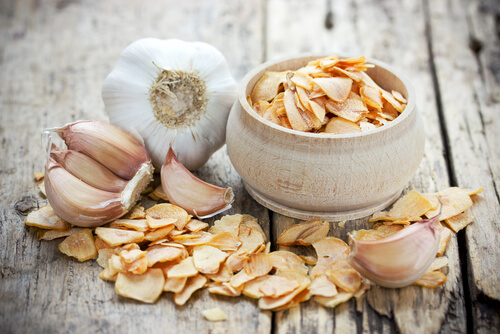 2. Garlic
Garlic tastes great in Italian food dishes, and it's also a fantastic home remedy to treat your urethritis symptoms. This bulbous herb contains polyphenol antioxidant compounds known as "allicin." Allicin has potent antibacterial, anti-viral, and anti-inflammatory properties that soothe the signs of urethritis infection.
To access the allicin in garlic, you'll need to crush the cloves – and consume the garlic while it's still fresh. We recommend that you grind the garlic, and add it to some warm water, then drink it down. The allicin in the garlic will go to work in restoring the bacterial balance in your digestive tract, eliminating the virus or bacteria causing the infection.
Repeat this treatment two to three times a day for best results. If you can't handle drinking garlic juice, then we recommend you add fresh garlic to your meals, but don't cook it, as it may reduce the efficiency and bioavailability of the allicin.