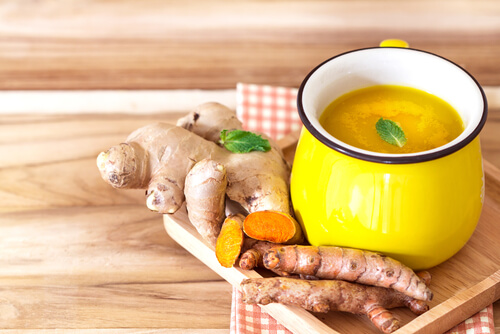 2. Try Ginger Tea
Pregnant women that are dealing with the effects of morning sickness can try using tea remedies to help them manage their symptoms. One of the most effective types of tea you can use for combating the symptoms of morning sickness is ginger. Ginger is a root herb that has a spicy and sweet taste, and it comes packed with polyphenol antioxidants, which are great for relieving symptoms of nausea and vomiting.
You can pick up ginger tea from any health retailer online or your local health store. It's affordable and effective as a remedy for morning sickness. Ginger contains polyphenol antioxidants known as "gingerols." these compounds help to relieve inflammation in the digestive system and the stomach, assisting symptoms of nausea dissipate without leading to vomiting.
Brew yourself a serving of ginger tea by placing a tea bag in a cup and letting it steep for 5 to 7-minutes before drinking.