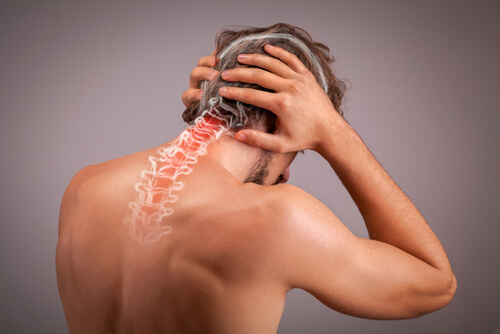 The symptoms of lumbar radiculopathy can be difficult to pin down. That's because the back and especially the massive bundle of nerves run through the back, all go to different places in the body.
The nerves that extend from the spinal cord travel to almost every other part of the body and cause different symptoms when they are compressed. That's exactly what lumbar radiculopathy is. It is when you have a pinched nerve in your spine. These can be caused by different things such as a slipped disc, sciatica or a variety of other conditions. But the symptoms that you experience can be wide and varied.
We have tried to come up with some of the most common symptoms here so you can get a general idea of what to look for. But the fact is, a pinched nerve can cause symptoms anywhere and they present in a variety of ways.
1. Cervical radiculopathy
Cervical radiculopathy, or a nerve in the neck or upper back getting compressed, is one of the symptoms of this particular condition. Most of the nerves that run through the spinal cord extend from the lower back and on down throughout the body. 
However, there are nerves that extend upward through the next, shoulders and other parts of the body including the upper back. That means when you have back or neck pain, it could be a sign that you are experiencing a pinched nerve down below but it is presenting as pain, tingling or numbness in the neck or upper back.
Your doctor will have to do an MRI to find out the exact cause and where the problem is coming from, but this can be a good clue that you are suffering from a pinched nerve. Whether that pinched nerve is in the upper back or the lower back will have to be determined.