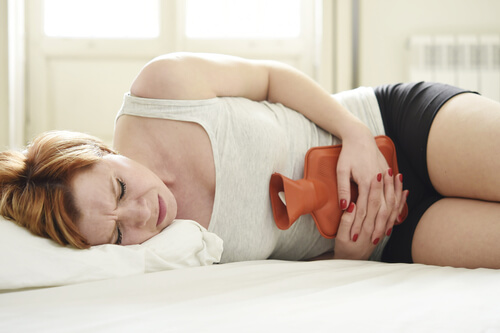 Dysmenorrhea is the term used for menstrual cramps in a clinical and medical sense. These cramps can be painful and incredibly difficult to deal with for anyone who finds themselves affected. The condition can be emotionally draining, just as it is physically draining and there are several symptoms that always seem to come along for the ride.
Whilst it is certainly true that everyone's own experiences with the condition are as unique as the person they are themselves, similarities can be drawn between cases based on the similarities found in the symptoms experienced.
The symptoms range from the mildly annoying right through to the excruciatingly painful and can extend beyond the reproductive system, which is unsurprisingly where the majority of the symptoms occur and can be felt. The symptoms that are most commonly experienced during dysmenorrhea are listed and expanded upon below. It is always advisable to seek the advice of a medical professional.
1. Cramping in the lower belly
Cramping is the very nature of the condition, but it is cramping in the lower belly that can sometimes be amongst the most painful of the symptoms. The cramping tends to come in waves, building to a crescendo of tightness and pain before receding and becoming gradually easier to bear.
The feeling has been likened to having a cord tightened around the belly and released intermittently. It is always hard to provide an analogy that resonates with everyone when it comes to describing pain, which is why doctors like to use a score out of ten for rating and assessing pain.
In a recent study of women admitted to hospital with severe dysmenorrhea symptoms, 74% of patients who completed the survey regularly scored their pain between 8 and 10, with the rest of the respondents falling no lower than 5. This indicates just how painful the belly cramps associated with dysmenorrhea can be.