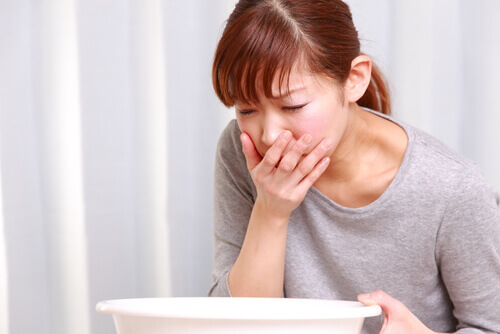 2. Vomiting
Vomiting is a symptom that can go together with a thousand different medical conditions from irritable bowel syndrome through to food allergies, and experiencing chronic vomiting (or a particularly long-lasting episode of it) isn't a conclusive way of diagnosis by any means – but if you experience vomiting together with a persistent cough, it could be a sign that you've contracted whooping cough.
It can be a highly dangerous symptom due to the fact that vomiting dehydrates the body and increases your risk of developing ruptures in your veins or hernias elsewhere in the body.
Over-the-counter medication or more natural options like ginger are excellent ways to suppress nausea but see your doctor if it continues even after this. Remember to continue hydrating with water or juice for as long as the vomiting episodes continue, and increase your fluid intake above what you'd normally consume to make up for the amounts of fluid you've lost.