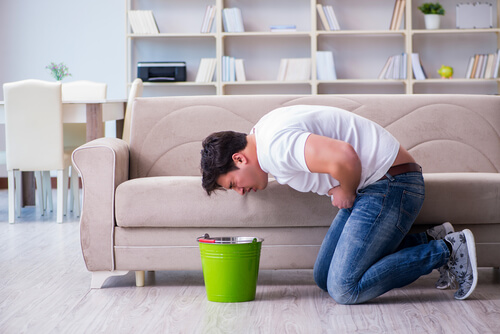 Salmonella is one of the most common causes of food poisoning in the United States. There are more than 7000 cases of the poisoning reported every year. However, many cases of food poisoning go unreported. The Center for Disease Control and Prevention estimates that there are over a million people in the United States contract salmonella every year and that there are over 20,000 hospitalizations caused by salmonella and nearly 400 deaths occur as a result of salmonella.
Salmonella typically occurs because a person eats food that is contaminated with feces of humans or animals who carry the bacteria. Meat, poultry, and eggs are common culprits. However, fruits and vegetables can also become contaminated with the bacteria. For this reason, it is important to know the signs and symptoms of salmonella. Here are 8 of the most common symptoms of salmonella to look out for.
1. Vomiting
One of the most common symptoms of salmonella is vomiting. The main reason for this is because this bacteria affects the digestive symptoms. Vomiting profusely can cause a person to lose important fluids. When these fluids are lost, a person may become dehydrated.
Dehydration can have serious consequences especially in small children and people who have compromised immune systems. For this reason, if you suspect a young child or a person who is elderly or those who have illnesses such as HIV or cancer, has salmonella poisoning it is important to take them to the doctor right away.
It is also important to make sure that you give them plenty of fluids in order to help them to rehydrate. Noticing this symptom early on is important so that the person does not get totally dehydrated, which can cause them to become even sicker and can cause even more complications.