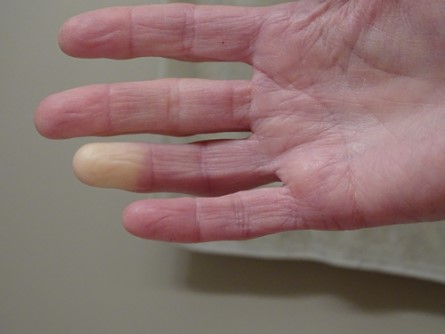 A rarely occurring condition, the uncommon problem of scleroderma is when hard, thickened patches of skin form on the body. In some more serious cases, the condition can also cause complications for some of the body's major organs and even blood vessels. These are not often life-threatening conditions, although they can become a threat to life if ignored or misunderstood.


During the initial development of a typical case of scleroderma, the immune system of a sufferer effectively attacks the fascia and other connective tissues, which lie under the patient's skin and all-around their internal organs. Due to this process, scarring can occur and tissue is caused to thicken in and around the affected areas.
Varying in terms of severity from case to case, there are several different forms of scleroderma that can affect people. Whilst some are fairly mild, improving on their own over time, others can have much more serious complications and sometimes life-threatening implications.
Although there is no known cure for scleroderma, many people who live with the condition are still capable of leading an active and productive life.
The most common symptoms of scleroderma are listed and expanded upon below.
1. Hardened or thickened skin that looks shiny and smooth
Localized scleroderma only affects the skin, and can cause it to develop a shiny and smooth appearance that has a texture like paper. This type of scleroderma is more of an annoyance for sufferers than a serious health problem. This is the mildest form of the variable condition and although it can occur at any age and any time, it usually affects children.
In most cases, any number of hard patches may develop in a localized area on the patient's body. Sometimes only one patch is present and the number rarely exceeds half a dozen, though much higher numbers have been recorded and observed in the past. With this fairly mild type of scleroderma, internal organs aren't ever affected and their function isn't at all compromised.

Any of the following symptoms may be considered troubling to a person suffering from scleroderma, but retaining a positive outlook, rather than dwelling on the misfortune of having been lumbered with a life long illness, can certainly go some way to providing even temporary relief for a patient.