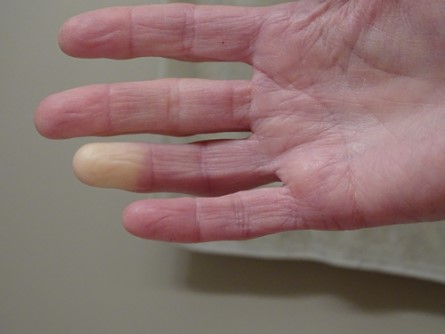 A rarely occurring condition, the uncommon problem of scleroderma is when hard, thickened patches of skin form on the body. In some more serious cases, the condition can also cause complications for some of the body's major organs and even blood vessels. These are not often life-threatening conditions, although they can become a threat to life if ignored or misunderstood.


During the initial development of a typical case of scleroderma, the immune system of a sufferer effectively attacks the fascia and other connective tissues, which lie under the patient's skin and all-around their internal organs. Due to this process, scarring can occur and tissue is caused to thicken in and around the affected areas.
Varying in terms of severity from case to case, there are several different forms of scleroderma that can affect people. Whilst some are fairly mild, improving on their own over time, others can have much more serious complications and sometimes life-threatening implications.
Although there is no known cure for scleroderma, many people who live with the condition are still capable of leading an active and productive life.
The most common symptoms of scleroderma are listed and expanded upon below.
1. Hardened or thickened skin that looks shiny and smooth
Localized scleroderma only affects the skin, and can cause it to develop a shiny and smooth appearance that has a texture like paper. This type of scleroderma is more of an annoyance for sufferers than a serious health problem. This is the mildest form of the variable condition and although it can occur at any age and any time, it usually affects children.
In most cases, any number of hard patches may develop in a localized area on the patient's body. Sometimes only one patch is present and the number rarely exceeds half a dozen, though much higher numbers have been recorded and observed in the past. With this fairly mild type of scleroderma, internal organs aren't ever affected and their function isn't at all compromised.

Any of the following symptoms may be considered troubling to a person suffering from scleroderma, but retaining a positive outlook, rather than dwelling on the misfortune of having been lumbered with a life long illness, can certainly go some way to providing even temporary relief for a patient.
2. Cold fingers or toes that turn red, white, or blue
Another mild form of scleroderma is known as limited cutaneous systemic sclerosis, which once again only affects the skin on certain parts of the body.
Typically, the skin on a patient's face, legs, hands, feet, and arms can be affected, although this form of scleroderma can, unfortunately, lead to problems with the lungs and the digestive system. Fingers and toes turning different colors can be symptomatic of a bunch of different health problems, and so establishing scleroderma from this symptom can be fairly difficult to confirm.
Initially mimicking or actually developing from Raynaud's disease, where poor circulation causes the discoloration of fingers and toes, this type of scleroderma makes everyday activities challenging to perform.

As mentioned throughout this article, some forms of scleroderma come and go in terms of the severity of the symptoms, meaning that some sufferers may experience little to no trouble at all.

This said it isn't difficult to imagine the misery that living with a high number of these 8 common symptoms could bring.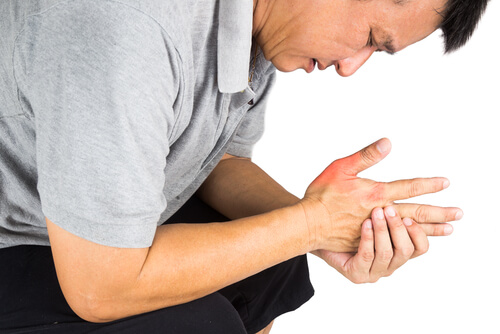 3. Ulcers or sores on fingertips
As already highlighted in the introduction and two examples above, the skin is what tends to most affected by milder cases and less damaging varieties of scleroderma, but exactly which way the skin is impacted upon, completely depends on the particular type of scleroderma you're dealing with. It also varies from person to person.
There are two main types of scleroderma which affect the skin to consider. They are called Morphoea and Linear.
Morphoea is very distinguishable due to its tendency to cause discolored circular or oval-shaped patches to appear in localized areas on the skin. These patches are often prone to appearing anywhere on the body, from the soles of the feet to the scalp and everywhere else between. They are in most cases incredibly itchy and irritating. Usually hairless and shiny in appearance, these patches of skin may improve with or without treatment over time, which isn't of much comfort to sufferers.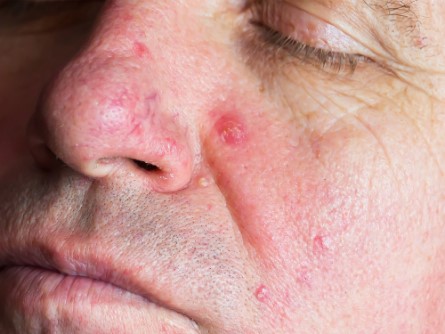 4. Small, red spots on the face and chest
The other recognized type of the condition known as scleroderma, which affects the skin, is known as linear. The blotches, patches, and spots that appear with this symptom are particularly unpleasant for sufferers, both aesthetically and psychologically.

Usually occurring in direct correlation with a series of small red spots dotted intermittently and sporadically on the skin, this type usually occurs, as the name suggests, in lines which can run along the edge of the face, across the scalp or down the limbs.

One potential complication of this type of scleroderma is that it can occasionally affect the bones and the muscles that lie underneath the affected area.

Although the effects may reduce in severity over the years, shortened limbs and other growth problems can blight sufferers, especially if they are children when first diagnosed. This is because the growth plates in children's bones are still active and damage them can cause complications.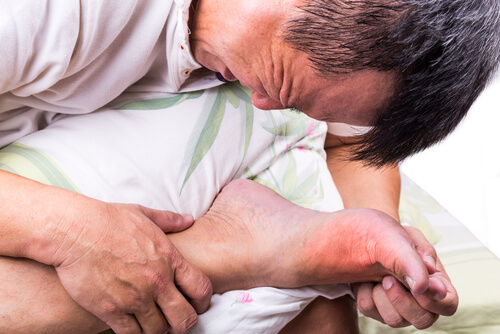 5. Puffy or swollen or painful fingers and/or toes
Another trademark symptom of scleroderma can be the change of appearance in the digits on the hands and feet. This symptom is easily recognizable as we all use our hands so frequently on a daily basis and so any changes, however small they happen to be, are easily noticeable.
Often described as appearing to be 'puffy', the affected fingers or toes, which have developed a thickening skin, can be difficult to manipulate or walk on respectively.
The swelling which occurs can prove a very daunting prospect to face, as it is usually a case of sitting it out and waiting for it to improve.
Over the counter treatments and anti-inflammatory medicines may help in some ways, but usually, it is a case of playing the waiting game for this symptom to calm down and for the patient to regain satisfactory control of their fingers and toes.

Once again, this symptom varies from person to person.