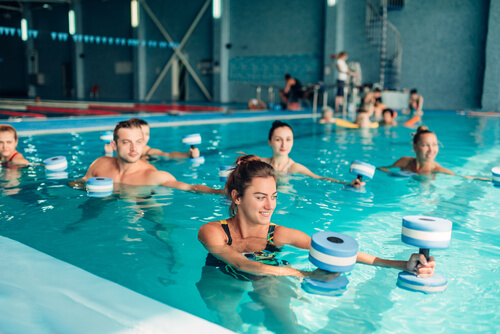 3. Water Aerobics and Swimming
If your thighs, hips, and other joints are bothering you, one of the best things that you can do is to try water workouts. Swimming is a great form of exercise that is easy on the joints. Water aerobics is another great form of exercise that can help to strengthen your muscles and joints without putting too much stress on them.
If you are suffering from meralgia paresthetica, working out in the water can help to strengthen the hip joints, which in turn can help to alleviate some of the pain that you may be experiencing because of the meralgia paresthetica. In addition, the cool water can help to reduce swelling and inflammation of the joints, which are the main causes of the pain that you are experiencing.
Swimming laps is also easy on the joints, but it can cause strain if you are not performing the strokes correctly. A certified instructor will be able to help you come up with appropriate exercises for your condition.