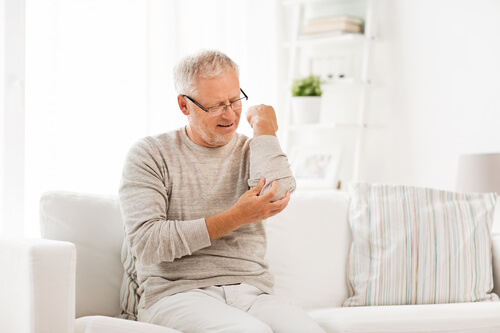 2. A Symptom of Tennis Elbow
Pain felt radiating through the left arm can easily be one of the first symptoms of what's commonly known as "tennis elbow", which is usually characterised by repeated inflammation of the elbow that flares up due to triggers like exercise, added strain, repetitive movements, certain dietary factors and colder-than-usual weather.
Tennis elbow often comes with associated symptoms and pain that radiates further than just the left arm, and the same pain and discomfort can also be felt through the neck, back and shoulders at the same time.
Applying direct heat to the elbow is one of the first ways to relieve the associated pain and discomfort. It's also advised to take as much strain off the affected elbow as possible, whether we're talking about the left or the right.
If you suspect that you might have tennis elbow or have already been diagnosed, it's all about reducing strain if you want it to heal.