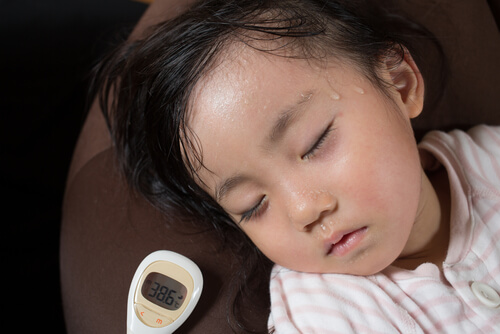 Understanding what the symptoms of the Coxsackie virus are and how it can be treated as an important thing for parents know. Although this is not a serious infection, it can be a somewhat scary one of you do not know what to expect. Almost all children the contract this viral infection recover from it on their own.
There is no real cure for the illness, but there are ways that you can boost your immune system and help your body to eradicate it. But being able to treat the disease starts with understanding what the symptoms are in the first place. We will be looking at 8 common symptoms of the Coxsackie virus otherwise known as hand, foot and mouth disease or HFM. This is not a comprehensive list of all of the symptoms of this illness, but it is a list of the most common ones that you should be looking for.
1. Fever
Having a fever is a pretty obvious sign of an illness. When you have a fever, you know that you are sick. Your body generally only generates a fever when it is trying to rid itself of an infection of some kind. Sometimes this is a bacterial infection, sometimes it is the standard flu virus and other times it might be something like HFM.
You're going to treat this fever the same as you would a fever from any other type of illness. The best way is simply to put your child into bed, take care of any responsibilities that you have for a couple of days and allow your child to sleep is much as possible. Most fevers will get under control by themselves if your body is allowed to heal itself through sleep. In some cases, you may want to use aspirin to treat the fever.