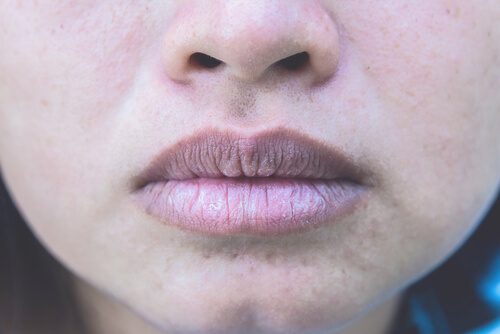 2. Moisture Problems
Patients suffering from the effects of angular cheilitis experience a dry sensation on their lips, that spreads to the edge and the corners of the mouth, drying out the tissues. As a result, symptoms of inflammation occurs in the lining of the lip, producing signs of mild pain and irritation that forces the affected individual to lick their lips frequently.
Unfortunately, Candida fungus is often the cause of the infection, and licking the lips adds more fungi to the existing area, intensifying symptoms. Patients may find that their lips start to swell, and cracks start to form in the corners of their mouths.
Licking the lips provides little relief from the pain symptoms and irritation, and the affected individual may gain some relief from using a medicated lip balm to moisturize the lips. Angular cheilitis typically goes away on its own after a few days as the bacteria or fungus causing the condition to start to subside.