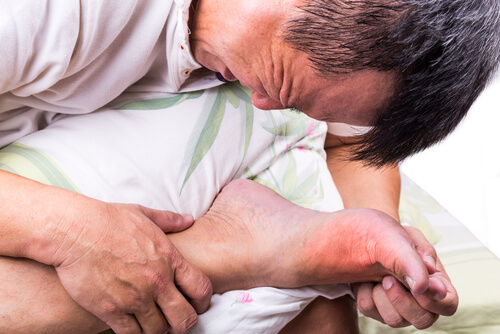 The plantar fascia is a ligament that attaches to the heel bone and runs to the base of the toes. This tendon acts as a shock absorber for the feet, absorbing impact from running and jumping. When the fascia becomes inflamed due to repetitive stress, it starts to thicken. Stressors, such as impact and running long-distance produce microtears in the ligament tissue. When the tears heal, they leave behind scar tissue, resulting in thickening and inflammation of the plantar fascia, known by its medical term; "plantar fasciitis."
This chronic form of tendonitis is most common in runners, athletes, and seniors. Athletes may develop the condition due to balancing on the balls and heels of their feet while suddenly changing direction – resulting in micro-tears. Runners who increase their distance create inflammation through repetitive heel strikes. Seniors develop plantar fasciitis due to structural issues with the feet from the aging process.
Here are eight stretches anyone can use to mitigate the effects of plantar fasciitis, slow its spread, and possibly gain a chance at remission of the condition.

1. Toe Curls
This exercise strengthens every area of the feet and toes. Consider it to be the "compound exercise" of your stretching session. Everyone knows that if you want to build strength in your muscles, then compound exercises like the deadlift and squat give you the best workout to increase explosive power.
The same principle applies to your feet, using exercises that combine multiple muscle groups and ligaments will offer the best strength gains for your feet. Plantar fasciitis often develops due to muscular and tendon imbalances that create structural issues with the foot – such as fallen arches.
Sit straight in a chair with your back flat against the backrest, and your feet flat on the floor.
Keep your toes on the floor and raise your heels till you feel a stretch in the front of the foot and on top of the ankle. Hold the pose for a few seconds and concentrate on squeezing the ball and heel of your foot.
Repeat two sets of five reps.