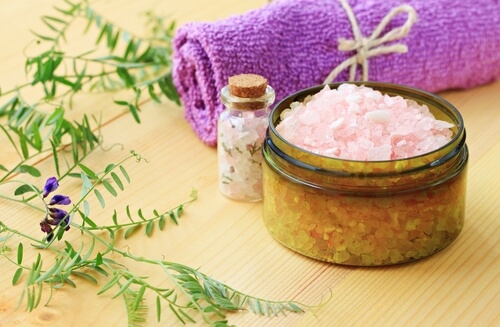 You stand and your back hurts, you sit and it still is hurting. No matter what type of position that you get into, you cannot get any type of relief from the pain in your lower back.
If this sounds familiar there is a chance that you are suffering from tailbone pain. Pain located in the tailbone area is referred to as coccydynia. The coccyx or tailbone is located between the buttocks and above the anus. If this bone gets inflamed you may experience tenderness and pain.
When you are sitting it aggravates the pain. There are many things that may cause a person to experience pain in the tailbone. One of the most common causes of tailbone pain is simply falling. Pregnancy can cause this type of pain as well.
Certain sports such as rowing, cycling, and bowling can lead to this type of pain as well. If you are suffering from tailbone pain there are a few simple things that you can do to lessen this pain.
1. Epsom Salt
When you hear the word salt you may automatically think about something that you put on your food. However Epsom salt is not a salt that you eat. The name comes from the chemical structure of this substance.
When Epsom salt is added to water it breaks down into sulfate and magnesium. Adding some Epsom salt to a warm bath allows the body to soak these chemicals in. This can help to reduce swelling, pain, and bruises.
When taking an Epsom salt bath it is important to use water that is quite warm. Add at least one or two cups of the salt to the bath. You should make sure that you soak your feet in the Epsom salt water for a minimum of twelve minutes.
Make sure that you are relaxed during this time. A warm bath can be quite relaxing and sometimes just eliminating stress can go a long way in helping with your pain.