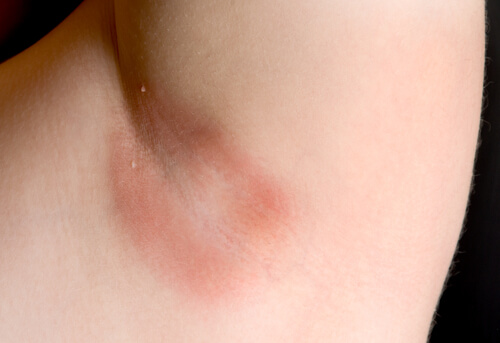 Intertrigo is a condition that typically happens when a certain part of the body is not cleaned properly or has a great deal of moisture as well as folds of skin that are constantly rubbing each other. There are several different warning signs to look out for. The first half that will be talking about is particular areas of the body where the condition can present itself.
You will notice that most of the time that condition presents itself in these particular problem areas. This helps you develop an early warning radar for these conditions because when you experience the symptoms in the problem areas then you will know that it is due to this condition.
The second part that we are going to discuss is the actual symptoms themselves. There are only a few regular symptoms that come with this condition, and when you combine the symptoms of the problem areas – as previously mentioned – then you can easily identify this illness.
1. Armpits
The first problem area that we want to look at is the armpits. The armpits are difficult to clean because they have so many different fleshy areas that they may not get it during the regular shower. This is especially true if someone is obese. When you are obese, you have several different folds of skin that you are navigating when you're trying to clean your armpits.
It certainly will not work to use your hand and a little bit of body wash to clean the armpits if you have this condition. What you will notice is that you are able to clean most of the area but when you get out of the shower the painful itching or redness will come back. This will require you to get in the shower again and clean the area more thoroughly. The best way that you can combat this is by using a washrag that has been soaked in antibacterial or other kinds of soap.