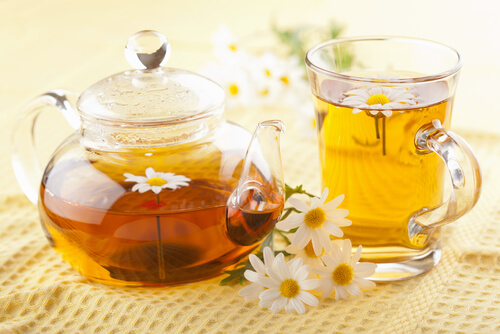 Chamomile tea is one of the world's favorite herbal teas. It has a smooth flavor profile, and plenty of health benefits, including enhancing your immune system and lowering your risk of developing heart disease. Chamomile comes from the plant family Asteraceae, and we use the leaves and flowers of the herbaceous plant to make the tea.
The Ancient Civilizations of Egypt and Rome believed in the healing powers of chamomile, using it as a treatment for fever, and a flavoring for food. The Romans were the first to discover the healing powers of chamomile, using the herb to cure a wide variety of ailments.
The chamomile flavor profile consists of herbal and fruity notes with a refreshingly smooth finish. It derives its name from Greeks, where they gave it the moniker of, "chamai-melon," meaning, "ground apple."
Chamomile tea has a light and airy taste, with a sweet aromatic scent. Here are eight health benefits of drinking chamomile tea.
1. Relieves Stress
Steering clear from stress is impossible in today's modern society. Before using prescription drugs to soothe symptoms of stress and anxiety, you might want to try a natural remedy instead.
Stress can cause anxiety, depression, high blood pressure, and type 2 diabetes. Natural remedies provide ways to subside the feelings of stress and anxiety without a visit to the doctor's office. Medications such as Xanax, Klonopin, Valium, and Ativan are fast-acting drugs that promote calming effects on those dealing with anxiety. However, these calming effects are temporary and unwanted side effects may occur.
The reason herbal medicines are beneficial is that while you use herbal supplements, you can also learn valuable anxiety-coping strategies. Natural remedies are safe, easy to find, practical and have fewer side effects than prescription drugs.
When feeling stressed out drink a cup or two of chamomile tea, the tea will increase serotonin and melatonin in the body which help.