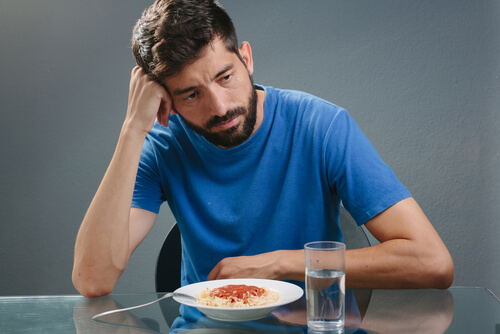 2. Loss of Appetite
A loss of appetite can occur with serotonin syndrome, seeing as serotonin is one of the key signallers to the brain that we should stop eating.
What happens when you eat carbs is that the body will produce a spike in insulin that follows the spike in sugar. This then triggers the body to absorb the glucose (energy) and the nutrients from the blood and to direct those toward the organs and processes where they are needed.
Some chemicals are not absorbed, however, which include l-tryptophan. This is what the body then uses in order to build serotonin – and that serotonin often triggers a release of the hormone 'leptin' which we can consider to be the satiety hormone.
As you can see then, a number of extremely clever automated processes result in the body producing signals at just the right time to tell the body when it's full. But if you have too much serotonin in your system that shouldn't be there, then this can upset that system and prevent those important signals from getting through.