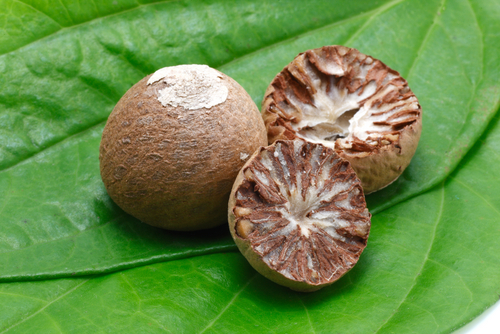 2. Betel nuts

Betel nuts aren't actually nuts, they're the seeds of the betel palm tree. These so-called nuts are pretty addictive. You'll find them used in various countries, prominently in Southeast Asian communities. These include people who hail from Sri Lanka, Bangladesh, Pakistan, and India. Betel nuts hold a similar stimulating effect that coffee beans provided.
That said, they also contain carcinogens which can increase the odds of developing oral cancer and even other types of cancer. Some people chew these nuts in unison with tobacco which further increases the risk of developing various types of cancer.
Due to the tradition of betel nut consumption, many studies have found that those who hail from Southeast Asian countries have a higher chance of developing oral cancer at any point in their life. Whether your chew betel nuts with tobacco or alone, it's important that you stop immediately to avoid further increasing the risk of cancer.