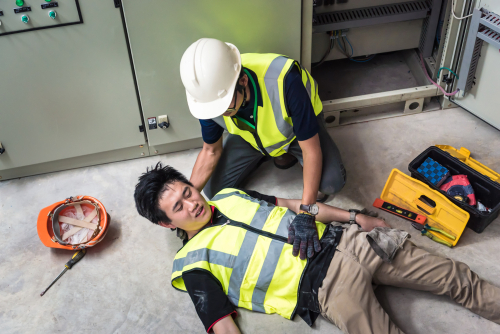 A compound fracture is an injury that causes the bone to break through the skin.
A fracture is essentially a broken bone of any kind. This can include a hairline fracture or "greenstick" fracture, which is just a thin crack, to a complete break where the bone breaks in two. Complete breaks like this can further be categorized as transverse (a straight break across the bone), spiral (a spiral break around the bone due to twisting), or oblique (diagonal).
A compound fracture is therefore by definition a full break. This then exposes one sharp end of a long bone (a bone that has two ends and a long body), which in turn can push through the skin if enough additional force is applied.
Compound fractures are serious injuries that present a number of potential complications and risks. Not only is it crucial to stop the bleeding, but you also need to prevent further injury and nerve damage, avoid infection, and treat the shock.
There are many potential causes of a compound fracture. Read below to learn 8 of them that you should be on the lookout for.
1. Fall
Simply falling can result in a compound fracture. This might mean falling on regular concrete, in which case landing at a bad angle can cause the break to be severe enough to push through the skin.
This is something that not many people realize: that something as simple as tripping on a flat surface can result in serious enough damage to actually result in a compound fracture. Again, this is all about the angle – if you put your arm out to stop your fall for instance, then you might end up breaking the forearm. Likewise, should you bend a limb backward, or if you should hit your skull, all these things can cause a compound fracture – or even prove to be fatal.
Other types of falls, however, might make a compound fracture more likely. For example, if you should fall from a height then this, of course, will significantly increase your likelihood of compound fracture. Fall off of a stage, a roof, scaffolding, or anything else, and you might risk this type of injury.
Finally, falling downstairs is another very common cause of the compound fracture.