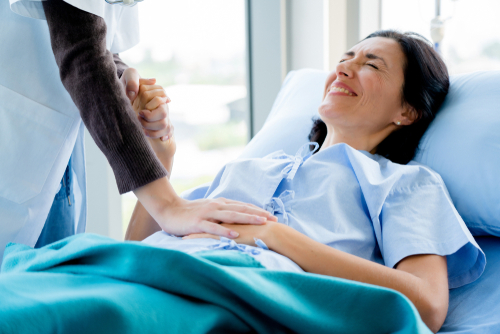 Anytime there is bleeding inside of the body it is called internal bleeding. Several symptoms signal a person may be suffering from bleeding inside of their body. Damage that occurs outside of the body is very easy to identify and treat. External trauma is also easy to diagnose. Anytime you are bleeding outside of your body, medical professionals can visually pinpoint the problem and take steps to remedy the issue. Internal bleeding is not always as easy to diagnose or treat. Internal bleeding is a serious concern that requires medical attention immediately.
In some cases, understand the cause of a person's internal bleeding is simple. In other cases, the cause is harder to identify. Knowing the reason for the bleeding is the first step in formulating a solution or viable treatment. Some causes of internal bleeding are a result of direct trauma while others may be as complex as a disorder of the blood.
1. Ectopic Pregnancy
When a pregnancy develops outside of the uterus it is called an ectopic pregnancy. Anytime an embryo attaches outside the uterus it results in a life-threatening situation. During an ectopic pregnancy, a woman may feel excessive amounts of abdominal pain, intense cramping, and even vaginal bleeding. As the pregnancy develops the growth of the fetus will cause the fallopian tube to expand and eventually rupture which will result in internal bleeding.
In many cases, a ruptured fallopian tube will require emergency surgery to stop the internal bleeding. This tube may have to be partially or fully removed depending on the size of the rupture. This condition is remedied by using a laparoscope to remove the ectopic pregnancy or in the case of rupture, removing the damaged tube.
Any age woman can suffer from an ectopic pregnancy, however, those past their 30's and those who have uterine scarring are more susceptible.