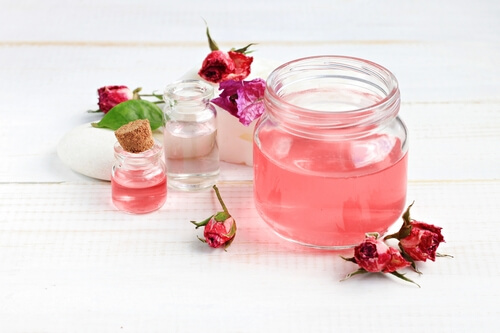 If you walk into any beauty salon, chances are good that you are going to see a bottle of rose water somewhere. The reason for this is because there are many beauty and medicinal benefits of using rose water.
Rosewater is made from rose petals. The water can help to moisturize the skin and keep it acne-free. In addition, rose water can also help to keep hair healthy, improve your mood, alleviate stress, and help heal wounds. Essentially, rose water can be called an almost magical serum.
You can easily purchase rose water to use or you can even make your own. No matter how you obtain it, rose water is definitely something that you should always have on hand because it offers so many amazing health benefits. Here are 8 of the mind-blowing benefits that rose water can provide.
1. pH Levels
Many people do not even realize that the skin has a natural pH balance that should be maintained. The natural pH balance of the skin is 5.5. Unfortunately, the constant use of wipes, face washes, soaps, lotions, and other items on the skin can disrupt the natural pH balance. This is where rose water can be extremely beneficial.
Using rose water on the skin can help to nullify the basic and acidic effects that these products may have on the skin. The rose water will bring the skin back to the natural state and restore the pH balance. The result of using rose water on the skin is great as it will provide your skin with the moisture that it needs and help it maintain the pH levels.
Daily use of rose water on the skin can be very beneficial and is a simple thing to add to your daily routine.