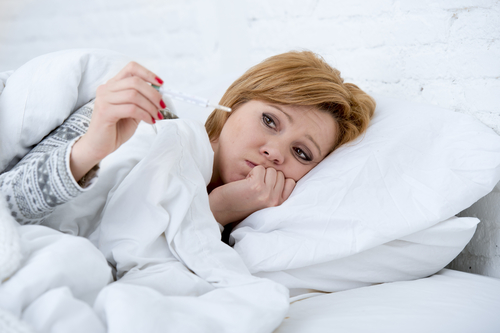 Aspergillus is a genus of mold that can lead to various infections that cause adverse effects. Most illnesses that come as a result of exposure to aspergillus molds are respiratory in nature. That being said, the symptoms, as well as the level of severity, could change from one case to the next. The issue with aspergillus is that it's incredibly common.
You'll find it anywhere you go. Whether you're inside your house or taking a walk in the park, it's likely creeping up right behind you. There is some good news, however. Most strains of the aspergillus mold are actually totally harmless. That being said, there are some types that could leave you seriously ill. Today we're going to tell you about eight of the most common symptoms of aspergillus.
1. Fever
The first symptom that you should be on the lookout for is a fever. After all, your body will always react with a fever whenever an invasive pathogen is detected. Fevers can also be common in cases where the infected patient is having an allergic reaction to the mold. These are most prominent in patients who have a pre-existing condition such as cystic fibrosis or asthma.
This form of aspergillus condition is referred to as allergic bronchopulmonary aspergillosis. Yeah, try saying that ten times fast. Allergic reactions can occur when you're exposed to other things as well such as pollen or nuts, so if you're a healthy person with no existing respiratory illness then you shouldn't be too concerned.
If, however, you do have pre-existing respiratory conditions and notice a feverish allergic reaction then you should consider the possibility that you've been exposed to aspergillus and get yourself checked at the nearest hospital.