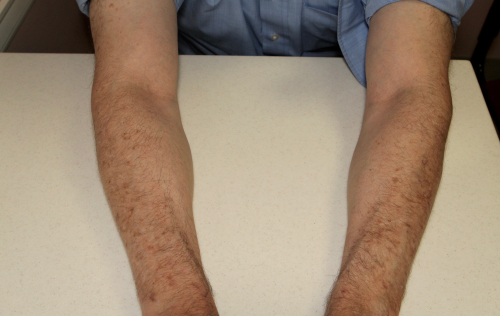 Actinic keratosis describes a rough spot on the skin that occurs due to the skin's overexposure to the sun's harmful UV rays. The condition is also known as "solar keratosis," and affects individuals who frequently spend long periods in the sun.

Actinic keratosis looks like small superficial lesions that have not penetrated the deeper layers of the skin. While these lesions are not cancerous, they are a form of precancer and run the risk of developing into squamous cell carcinomas, (SCC.)

Therefore, if you notice any signs of the skin condition, it's best to arrange an appointment with your dermatologist for removal of the lesion. Doctors diagnose actinic keratosis during a physical examination and recommend removal of the growth using one of three methods;
Cryo-surgery, chemical peels, or curettage and desiccation.

Here are eight signs of actinic keratosis, if you notice any of them – arrange a consultation with your dermatologist for treatment.
1. Discolored Lesions

Actinic keratosis produces flat, discolored lesions on the surface of the skin. These growths change the genetic material inside skin cells, turning the skin dry and rough to the touch. Actinic keratosis growths come in a variety of colors, ranging from pink, red, brown to black.

Many people suffering from this skin disorder don't notice the early stages of actinic keratosis growth because they have the same color as their skin. It's only as the lesion begins to grow and mature, that people start to notice changes in their skin color, and discover the growth.

At this stage, many people become terrified at the prospect that they may have contracted some form of skin cancer, such as melanoma – which has over 178,000 new diagnoses each year. However, it's important to note that the lesions are not cancerous, but if continued sun exposure persists, actinic keratosis may develop into a form of skin cancer known as squamous cell carcinomas, (SCC.)