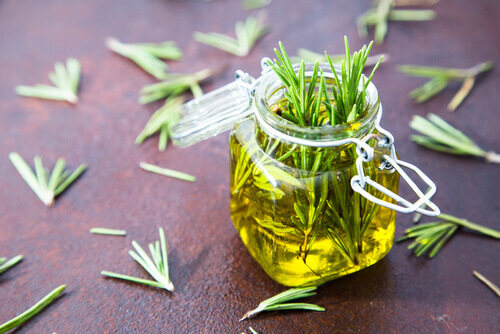 This evergreen herb is native to Mediterranean lands and has a rich history of use by the ancient Greeks and Egyptians. The Italians have a special relationship with rosemary in cooking, where it provides undertones of bitterness and astringent flavors to meals. Roasted pork loin would not be the same without this magnificent addition to the seasoning mixture.
Rosemary brings out the flavor in stews, soups, sauces and stuffing's, and its available as the fresh, unprocessed spiny leaves or as a dried and crushed powder. Rosemary is also available in extract oil where it offers therapeutic and homeopathic value in treating a variety of physical and mental ailments.
The herb is rich in nutrients such as vitamin C and B6. as well as folate, thiamin magnesium, iron, copper, and calcium. However, the extract gets its potency from the presence of carnosol, diterpene, and rosmarinic acid. The terpenes also provide plenty of medicinal benefits for a wide range of health problems. Here are eight surprising ways to consume rosemary.

1. Oils and Vinegar
Do you love salads? Then the chances are you'll enjoy a rosemary infusion in your balsamic vinegar or olive oil. It's easy to make a rosemary infusion at home, without the need for specialized equipment. All you need is some rosemary sprigs and the oil or vinegar.
We love adding rosemary to our dressings, the bitterness neutralizes the sweeter taste of the balsamic, providing an earthy flavor and aroma. Take 1-cup of rosemary sprigs and add them to a glass container or decanter. Pour in your balsamic or olive oil, secure with a lid, and leave the oil in the dark for two weeks before use.
Over the two weeks, the flavors and aromas of the rosemary infuse with your oil and vinegar. The strength of the taste and fragrance depends on how much rosemary you add before storing and distilling your oil or vinegar. Drizzle over salads, roasted vegetables, or crusty bread.