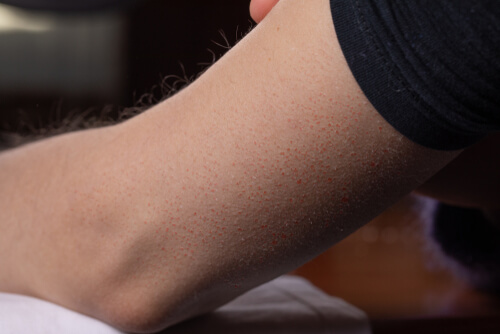 Keratosis pilaris describes a skin condition where the surface of the epidermis develops small bumps that feel rough to the touch. Also known as "chicken skin," this harmless, non-cancerous skin disorder typically affects both men and women under the age of 30-years.

Chicken skin typically affects the skin around the upper arms, cheeks, buttocks, or thighs. Most individuals affected by chicken skin notice a decline in their symptoms in the late twenties, with the condition disappearing before they turn 30.

Keratosis pilaris occurs when the skin produces too much keratin, a protein responsible for strengthening hair while protecting the skin from infection. However, individuals affected by chicken skin experience an increase in keratin production, which blocks the pores.

Treatment for the condition includes the use of Sulphur soap, lactic acid lotions, and retinol oils to reduce the bumps. Here are eight symptoms of keratosis pilaris, if you notice any of them occurring on your skin, speak to a dermatologist about treating your skin disorder.
1. Bumps on the Skin

Keratosis pilaris occurs when hair follicles become blocked by excess keratin production. The body increases its production of keratin to protect the skin from dry environments, keeping it healthy. Unfortunately, it may not know when to stop, and keratosis develops as a result.

Chicken skin is an accurate description of the bumps that develop on the epidermis during a bout of keratosis pilaris. The surface takes on the appearance of a freshly plucked chicken, where the follicles holding the feathers have a raised appearance.

When keratin blocks the hair follicles, it traps a tiny hair underneath the skin, forcing the keratin to the surface of the skin. This blockage leads to the development of a small bump. Outbreaks tend to produce anywhere from a few bumps, to thousands. The most affected areas of the body are the skin of the upper arms, representing over 90-percent of cases. The thighs and buttocks are other common areas for the condition to develop.