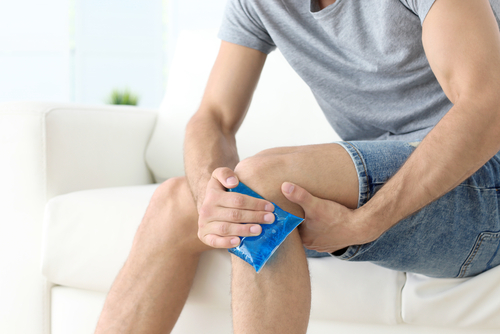 The medial collateral ligament or MCL is a band of tissue that is located on the side of the inner knee. It connects your thigh bone and shin to help to keep you stable and move properly. The MCL can become injured when another player collides with another player and the knee is impacted.
Some sports that this injury can occur are in are football and hockey. Any sport where there is direct contact, an MCL injury can occur. The injury occurs because your knee is overextended or bends in a direction too far that it's not supposed to. It will become difficult to walk because the pain will be felt when pressure is placed on the knee.
When the injury occurs, you want to take steps to heal the injury, so that you can go back to playing your chosen sport.
There are eight tips to speed up an MCL sprain recovery.
1. Icing the MCL sprain will help to speed up recovery time.
The ice will reduce swelling, pain, and inflammation. Crush some ice and place it in a clean dishcloth. Place the dishcloth with ice on the MCL sprain for 15 to 20 minutes. Do this every hour for as long as it's needed.
An ice pack can be used as well if you don't want to use crushed ice. When using an ice pack, make sure to put a towel or dishcloth in the sprain first, so that the ice pack isn't directly on the skin. You don't want to get frostbite. You don't want to use heat therapy when you have a sprain.
The ligaments need ice, not heat. The muscles would need heat, but your muscles aren't affected in this situation. It is a good idea to be in a warm area when icing because after you take the ice off of your knee, you will feel cold.