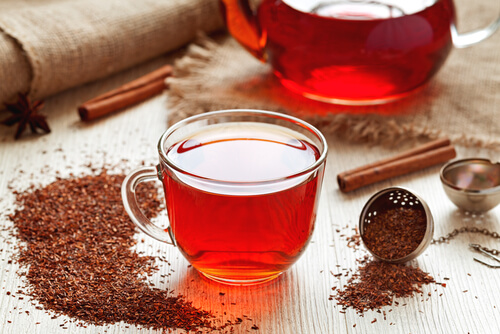 Rooibos tea contains chemical compounds, antioxidants, and enzymes that reduce inflammation while boosting the immune system. Rooibos tea is also known as bush tea, is made using the long needle leaves from the "Aspalathus linearis" plant, which turn red during the drying process.
The meaning of rooibos means red bush in Afrikaans, one of the 11-official languages of South Africa – and it refers to the vibrant, deep crimson color of rooibos tea. Rooibos plants grow in the mountainous Cederberg region of South Africa, in the Western Cape province, and the Aspalathus linearis plant contains high levels of polyphenols providing numerous health benefits.
Rooibos tea has a sweet, nutty flavor with hints of caramel, vanilla, and smoky essence. The tea has a light mouthfeel that's subtle and not overpowering. It brews into a reddish-brown hue that can be as visually stunning as it is tasty. Rooibos tea is caffeine-free, making it a delicious beverage at any time of the day, even before bed, and rooibos tea is excellent as a hot or iced tea.
1. Aids Weight Loss
Drinking rooibos tea is an excellent way to have a delicious beverage without putting on the pounds. Each cup of rooibos tea contains only 2 to 4 calories, and you can drink this delightfully smoky tea without worrying about putting on weight. Adding sugar, honey or other sweeteners increases the calorie count, so keep your additions to a minimum.
Many people drink tea for its soothing properties and delicious taste, and each cup also contains many health benefits. Many types of tea are exceptionally high in beneficial compounds, as they have flavones and catechins, which aid in weight loss. Along with eating a healthy diet and taking regular exercise, a cup or two of rooibos tea helps boost weight loss and prevents the accumulation of adipose tissue.
Boil the kettle and let it cool for 3-minutes to ensure the hot water does not damage the antioxidants. Brew the tea for 5-minutes to release the beneficial polyphenols in rooibos.