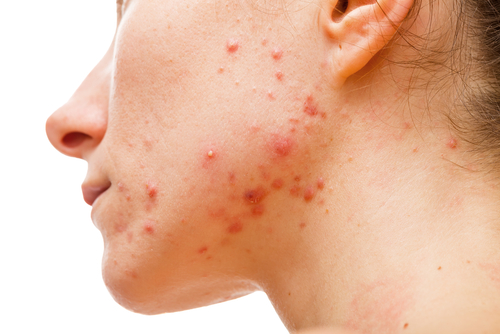 2. Acne Treatment
Acne is the most common skin disorder in the United States, affecting up to 50-million Americans. Acne typically starts when the individual hits puberty, and lasts throughout the adolescence into early adulthood. 85-percent of people between the ages of 12 to 24-years old have had to deal with at least minor acne outbreaks at some stage in this period.
Teenagers with acne may find it to be a social challenge and might become victims of emotional bullying at school from their peers.
Most people wouldn't think that treating oily skin with another oil is a good idea. However, studies show that calendula oil may have an effect on treating and preventing acne vulgaris in petri dish samples.
We recommend you give calendula-infused lotions a try for helping the skin around the face, neck, and shoulders recover from the effects of an outbreak. The cream will help reduce scarring and help to prevent future outbreaks.