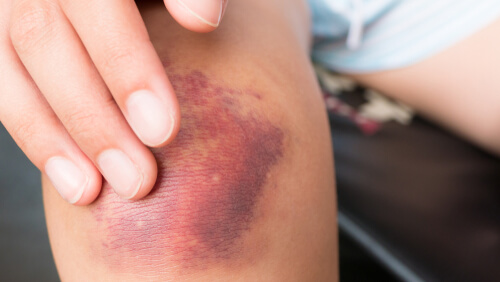 3. Bruising
A contusion or bruise is a common and often immediate sign of a fracture.  The injury causes capillaries to break and the blood is trapped under the skin resulting in severe black and blue bruising.
Ice is the best, easiest and least inexpensive way to treat a bruise. The cold slows blood flow which means less blood leaking into the soft tissue around the injury. Ice needs to be applied almost immediately to be most effective, but it does help up to 48 hours after the break. Bruises should fade within a few weeks when the blood gets reabsorbed into the body.
Compression with an elastic bandage helps slow the blood so that discoloration is curtailed and the bruise heals faster. Elevation of the injury is also effective in reducing bruising and swelling. After the initial application of ice, heat can be used to ease the pain and encourage blood flow.