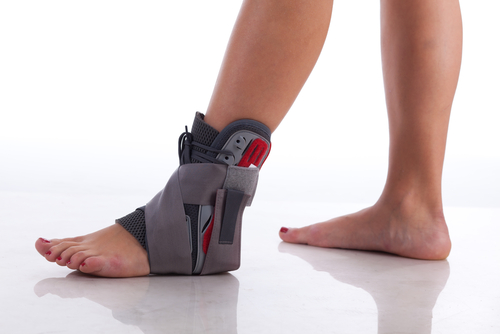 If you can mention a joint or part of the body, it's likely that you can find a brace to suit it. Medical braces are one of the greatest medical inventions there are.
They're great if you've recently injured a joint that needs time to heal, if you are experiencing a previous injury flare-up or if you would like to support a joint more during physical activity – and yes, they can be worn even if you just want to offer support to the joint and haven't actually injured something yet! In fact, wearing an ankle brace can greatly reduce your chances of getting injured.
There are many types of braces available, including ones that are a soft fit (imagine a sock that fits only your ankle – or knee, elbow or any other joint) or ones that are slightly more stable which come with straps.
Could you benefit from an ankle brace? Almost certainly.
Here are 8 outstanding benefits of wearing an ankle brace.
1. Helps to Correct Posture
Posture is one of the most important things for overall spinal and joint health, but it can become harder over time to maintain a good posture when you're undergoing a lot of pain and discomfort – and it can become even harder if you've injured your ankle and changed the way you walk. Most people don't even realize that they do it, usually because of an underlying injury or medical condition – and it can have disastrous effects on the rest of your body.
When your ankles aren't happy, the rest of you likely won't be either. You'll feel this when you start to experience neck pain, back pain and an assortment of other issues that are all, technically, related to your posture – and to your ankles and how you walk.
Corrective shoes are great for correcting this – but so are ankle braces, and they can often be considered a much better alternative.