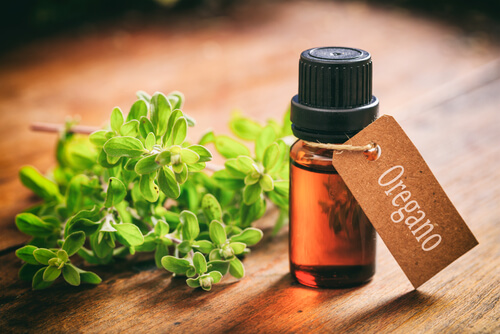 When most of us think about oregano, we imagine the crushed green herb sprinkled across a fresh pizza or salad. However, it may surprise you to learn that oregano offers plenty of medicinal benefits as well. The essential oil extract from the herbaceous plant serves as a tonic and topical oil that has a variety of uses.
The active compounds in oregano can assist in the treatment of diseases such as osteoporosis, diabetes, and even cancer. Traditional medicine revers oregano oil, and homeopaths all over the world regard it for its antimicrobial properties that prevent the spread of disease.
Whether you choose to add oregano to your salads and pasta dishes or decide to try the essential oil to moisturize your skin – oregano deserves a spot in your medicine cabinet or kitchen pantry. Here are eight health benefits of using fresh oregano and the herbal essential oil. Add the herb to your meals or make a home remedy with the oil.

1. Prevent Infection
There are plenty of studies showing the antimicrobial effects of oregano oil in protecting the body from infection. The carvacrol found in oregano essential oil has potent anti-bacterial and anti-viral properties which make it a suitable natural remedy for treating and preventing disease.
One study shows that the activity of herpes simplex virus in test tubes, reduced by as much as 90-percent after exposure to oregano essential oil.
Chewing on the fresh leaves of the plant allows you to benefit from the anti-microbial properties of the polyphenols before they undergo the drying and processing phase. The fresh leaves contain anti-bacterial agents that ward off infection with the norovirus – responsible for many outbreaks of stomach infections.
Diffusing with essential oregano oil or fresh leaf extract helps to alleviate the symptoms of upper respiratory tract infections. Inhaling the medicated steam twice a day may soothe a sore throat, blocked sinus, and reduce levels of fatigue in affected patients.